Let me just add that camDown is your security solution to protect you and your business from webcam hackers.
HK's new VP9L OR is the long-slide, optics-ready pistol VP9 fans have been waiting for.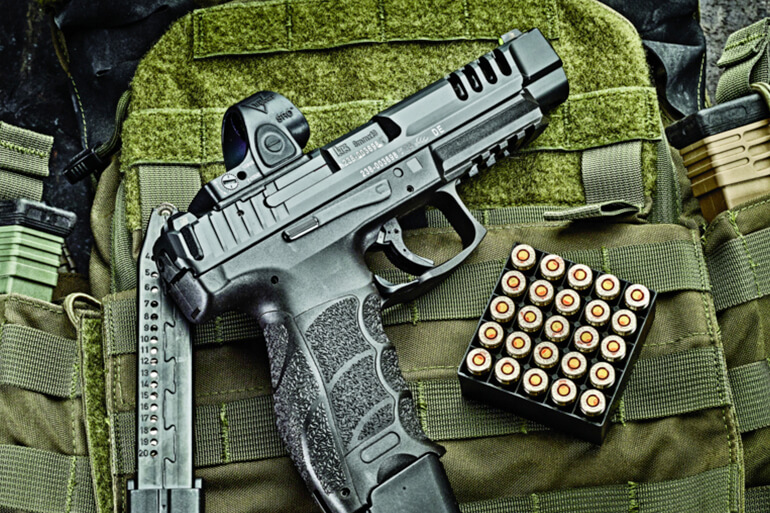 February 12, 2021
By Brad Fitzpatrick
I clearly remember the first time I fired the HK VP9. I was attending a premiere for the film Jurassic World in Bozeman, Montana, an event set up by Crimson Trace, whose lasers feature heavily in that film. Following the premiere, we spent time on the shooting range using Crimson Trace lasers on pistols, and those lasers were attached to a new striker-fired pistol from HK, the VP9.
That VP9 was one of the most refined, well-rounded pistols I'd shot. The ergonomics were great, build quality was superb, and accuracy was outstanding. Even with a price tag that was $100 or more higher than some competing models, I thought the VP9 would be a winner. I was certain a competition model would follow.
HK did offer a replacement long-slide assembly with a five-inch barrel for the VP9 on its website store beginning in 2019, and even with a suggested retail price of around $450 shooters gobbled those up—they're still sold out. But as of now, shooters no longer have to purchase a separate slide assembly if you want a five-inch VP9. The VP9L OR factory pistol is here, and it's optics ready.
The VP9L OR is mechanically similar to the five-inch VP9 that shooters have come to love. The striker-fired VP9L OR uses the same recoil-operated design as the standard VP9, and both guns use a captive flat-wire recoil spring. The slide on both guns is machined from high-carbon steel and nitrocarburized for maximum durability, although the VP9L OR comes with lightening cuts on the slide.
Both guns come with trigger, firing pin and disassembly safeties, and both gus have a rotating takedown lever that operates only when the slide is locked back and the magazine is removed. What's more, the takedown lever decocks the pistol, so there's no need to pull the trigger prior to fieldstripping.
There are other notable features on the VP9 that have made their way into the long-slide version. Two interchangeable "charging supports" protrude roughly 0.2 inch from the right and left rear portions of the slide and offer additional purchase for slide manipulations, and both the VP9 and VP9L OR come with sturdy four-slot accessory rails.
Additionally, both guns also come with interchangeable side and rear grip panels. Using a roll pin punch, owners can swap the side and rear panels. Guns that "feel good" are big sellers, especially for first-time buyers, and I believe HK owns the top spot in the market with regard to grip geometry.
In addition to the interchangeable grips HK pistols also offer sensible, functional texturing, a proper grip angle and well-positioned finger panels that offer enough latitude to accommodate hands of various sizes.
"Having the ability to adapt to the shooter is key," says Bill Dermody, HK-USA's marketing director. "How many times have you seen someone in a gun store choose a gun because they liked the way it felt? But their grip may change as they become a more experienced shooter."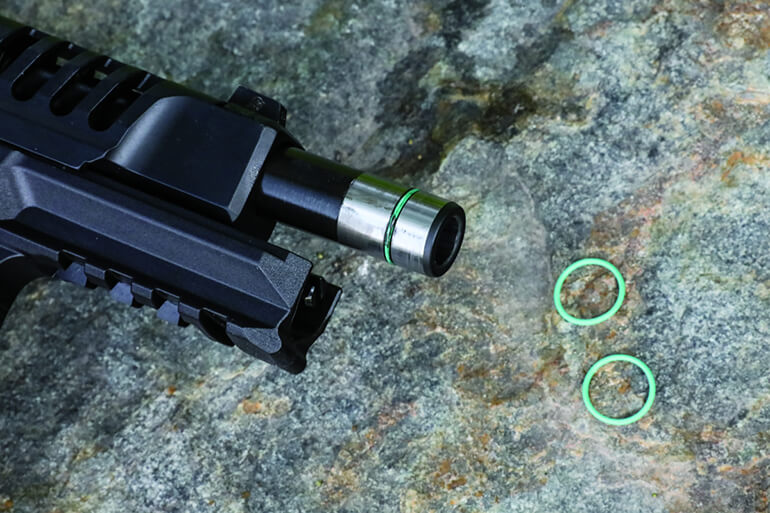 The VP9L OR, like other pistols in this family, offers a modular grip design that quickly and easily allows the shooter to customize the grip interface.
The most obvious difference between the VP9 and VP9L OR, except perhaps the angular slide-lightening cuts, is barrel length. The L version comes with a five-inch, polygonal cold hammer-forged, six-groove, machined stainless steel barrel.
The anterior portion of the barrel is polished stainless and features a groove with an O-ring. Recoil-operated semiauto pistols have moving barrels, and the barrel/slide orientation must remain exactly the same from shot to shot to maximize accuracy, and this rarely happens. The VP9L OR's O-ring design helps properly align the barrel and slide after each shot, which in turn leads to improved barrel/slide consistency and better accuracy than you'll get out of most recoil-operated semiautos.
A cover plate is included with the purchase of the gun, and it's so precisely machined you'll have to look closely to even see it when looking at the pistol in profile. HK offers six different plates for mounting a red dot, but none is included with the purchase of the pistol. Dermody says the reason for that is simple: economy.
"These plates are machined, not stamped," says Dermody. "If we included all six plates with the pistol, customers would have to pay for those."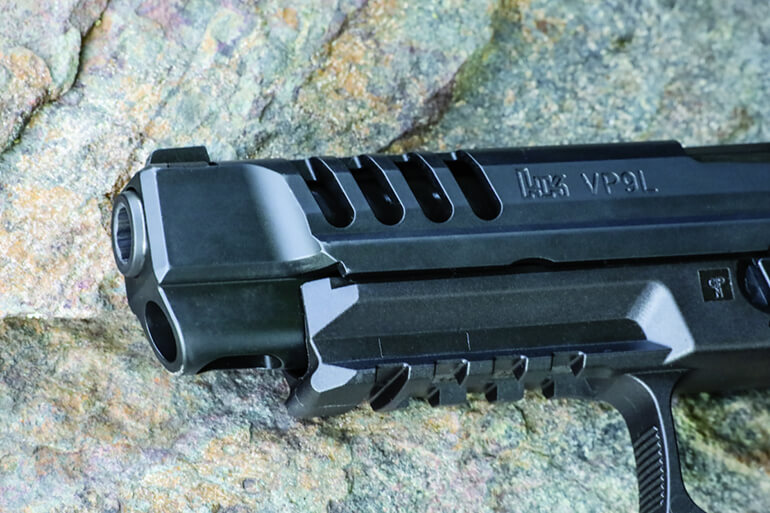 That would drive cost up considerably, and odds are most shooters will need only one of the six plates. Because they are precision machined, the slide-to-plate fit is tight and even, which helps not only with aesthetics but also with durability.
Plates are sold through the company's website and cost $29 each. At press time there were three plates in stock: Meopta Meo Sight III, EOTech MRDS and Noblex Sight 3; Trijicon RMR and Holosun; and C-More STS2. Dermody says other fitments would be coming on online shortly.
For those who don't want to add an optic, the VP9L comes with iron sights, either tritium night sights or a black rear/luminescent front sight.
Suggested retail price for the VP9L with black/luminescent sights is set at $899, and the version with night sights carries a suggested retail price of $999. The model I tested did not have night sights, but the front and rear sight were dovetailed into the slide, and they would be relatively easy to change if you decided to switch to another style.
The rear notch on the test pistol measured 0.160 inch wide while the front post measures 0.155 inch. That gives just enough clearance on either side of the front post to quickly and efficiently center the 0.135-inch luminescent dot on the target. What's more, the bright, wide yellow/green front dot is highly visible and draws the eye to correct position.
---
---
Controls on this pistol are pretty standard for a polymer-frame, striker-fired pistol with one notable exception: the magazine release. German pistol manufacturers favor paddle-style releases mounted on the rear bottom portion of the trigger guard, and one of the primary reasons is that police pistols in Germany must not allow the magazine to be removed when the gun is holstered.
Sensible as that is, American shooters don't seem inclined to drop their allegiance to the more familiar push-button style mag release. HK offers a "B" version of the standard VP9 that comes with a button release, but as of right now, the VP9L is outfitted only with the paddle.
On a bright note, the paddle is ambidextrous, and so is the slide stop. As mentioned, there's a rotating takedown lever that allows for the gun to be fieldstripped quickly without tools. A red cocking indicator is visible through the rear of the slide plate, and the side-mounted extractor acts as a visual and tactile loaded-chamber indicator.
Each of these pistols comes with a pair of extended 20-round metal magazines, although 10-round mags are also available if local laws limit magazine capacity.
With its five-inch barrel the VP9L OR measures 8.25 inches long. From the base of the grip to the top of the iron sights the gun measures 5.25 inches, and with the extended magazine in place overall height jumps to 6.5 inches. After mounting a Trijicon SRO the pistol's overall height was just a bit less than overall length. At its widest point, the VP9L OR measures 1.3 inches. Despite its added barrel length and extended magazine, the VP9L OR isn't obtrusively heavy. Unloaded weight with magazine in place is just over 27 ounces.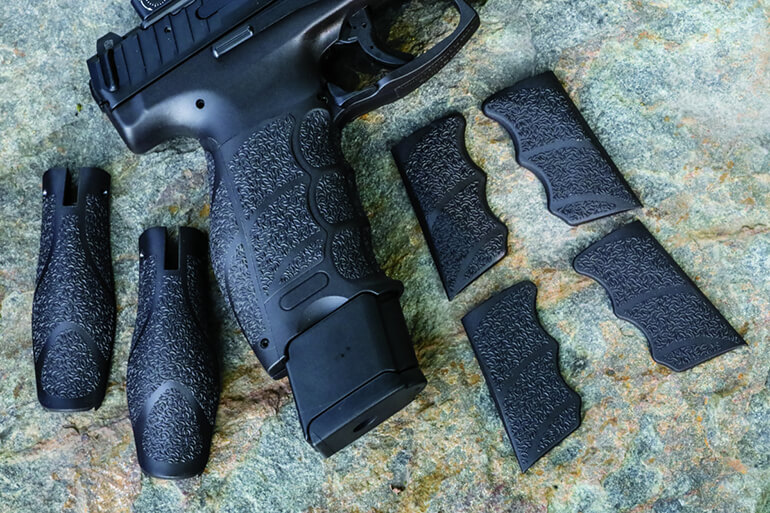 Before I shot the VP9L OR I mounted the SRO and took the gun apart to inspect the internals. As with every HK pistol I've tested, the inside of the gun was extremely clean and free of machine marks. The metal on the inside looks as good as what you'll find on the outside, and it's clear that part of the reason HKs cost more than comparative striker guns is the attention to detail. The feed ramp is polished smooth and the beefy side-mounted extractor is machined from quality steel and measures 0.2 inch tall.
It's no surprise, then, that the VP9L OR ran smoothly with all five loads tested. The lightening cuts keep the gun balanced and improve performance, and over the course of firing more than 300 rounds, I didn't encounter a single failure. What's more, the slide locked back on the last shot each time, which doesn't happen with a lot of new guns—even ones costing more than the VP9L OR.
Magazine quality is as good as you'll find in any striker-fired pistol, and the extension makes it easy to grab the magazine and pull it free should the need arise. I didn't have any issues with the magazine sticking.
I don't find the paddle-style release as much of a sticking point as some gun buyers might, but if you're used to a mag button, it will take some practice to get used to the paddle. Still, once you learn the system and commit it to muscle memory, I believe you can drop a mag using the paddle-style release as quickly as you can with a button.
After the last shot is fired and the muzzle comes up and slightly away from the target, the downward stroke of the shooter's thumb naturally presses down on the paddle. Still, some shooters will consider this design a flaw if for no other reason than the fact that pressing a magazine button is so engrained that becoming proficient with a different release would require lots of range time.
The VP9L OR's bladed trigger sets the standard for striker-fired guns. The trigger face is broad enough to allow for plenty of contact with the finger for maximum control. Take-up is smooth and even, and the break is remarkably consistent and predictable. It's more precise than the factory trigger in other striker-fired pistols, and the tactile/audible reset is short and precise—less than 0.2 inch. The trigger on the test gun broke at 5.6 pounds when tested on a Wheeler gauge, and it was remarkably consistent across all 10 trigger pulls. I really think the VP9 trigger is how every factory striker-fired trigger should feel.
From the bench with the Trijicon SRO zeroed at 25 yards, the HK VP9L was consistently able to produce groups under two inches. Several of the test groups went 1.5 inches or better, with the two best groups measuring 1.22 and 1.32 inches. I tested the with a variety of 9mm loads including two target loads (one full metal jacket, one Syntech), a defense load and two heavy subsonic loads.
Part of this variation was to test accuracy as well as reliability, and the VP9L OR didn't have an issue in either category. No matter what you feed it, the HK will run with reputable factory ammo. Additionally, HK claims the VP9L OR's polygonal barrel offers an uptick in velocities, and that's precisely what I saw. With this gun I was getting 20 to 50 fps more from some loads than factory claims.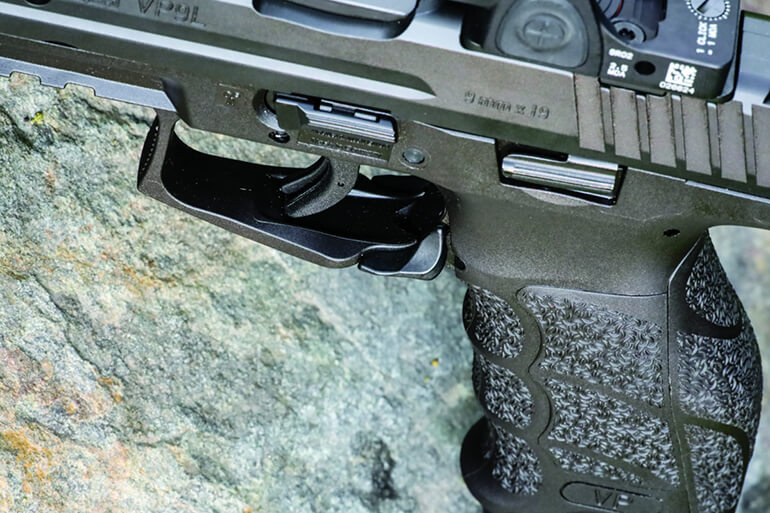 One of the best pieces of advice I received as a competitive shooter was if you want to be as good as you can be, you need a gun that tests your limits, not the other way around. To my mind, the VP9L OR epitomizes this philosophy. With its great trigger and short reset, the pistol is built for speed, a gun that can be shot as quickly as the skill level of the shooter allows. But the VP9L OR is also built for longevity. Top-quality parts means you won't be nursing the gun back to health when you shoot it a bunch.
Bill Dermody suggested that the recoil pulse on the VP9L OR differs from that of its four-inch cousin, and I do not disagree. Because of that smooth recoil pulse, added sight plane length of 7.2 inches, functional optics, excellent trigger and class-leading ergonomics, the VP9L OR is easy to shoot fast. It handles recoil particularly well, and competitive shooters will like that.
The VP9L OR is ostensibly designed as a competition gun, and it will perform well in USPSA Production and Carry Optics and other classes, but it's more than simply a comp pistol. Sure, it costs more than other guns in this category, but with its build quality and reliability, accuracy, optics-ready capability and prodigious 20-round capacity, the VP9L would make a superb personal defense handgun in situations where concealability isn't paramount.
And its smooth-shooting nature makes it an ideal target pistol. The mild recoil impulse and easy-to-use controls—aside from the paddle mag release, which you may or may not like—qualify it to be a particularly good 9mm to train new shooters. It's far more manageable than some really light, short-barreled 9mms. It's also part of a growing VP9 segment that indicates, as the B version of the original VP9 did, HK is listening to what customers want and then delivering it.
"We've announced more new products for the VP line this year than in its total lifespan," says Dermody. That's a sign the VP family of pistols is catching the attention of shooters, so don't be surprised if you see the L version on a range near you very soon.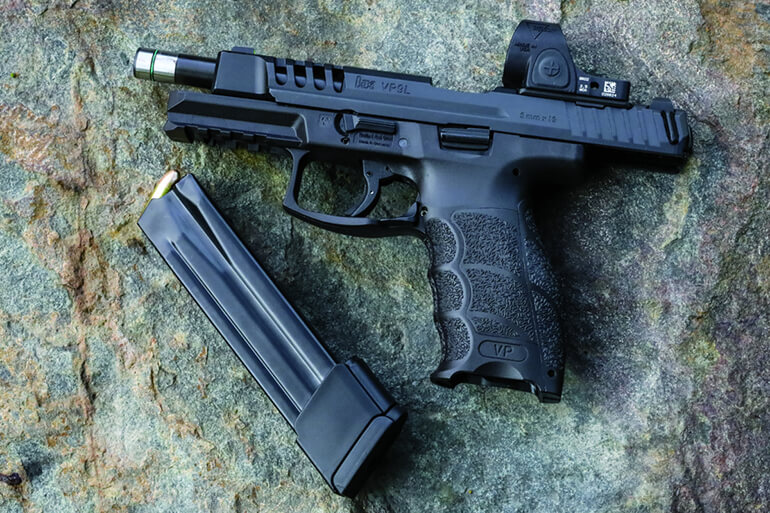 Heckler & Koch VP9L OR
Type: striker-fired semiauto
Caliber: 9mm Luger
Capacity: 20-round magazines; 10-rounders available in restrictive states
Barrel: 5 in.
OAL/Height/Width: 8.25/5.25/1.3 in.
Weight: 27.2 oz.
Construction: nitrocarburized steel slide; polymer frame w/interchangeable back and side grip panels
Sights: black notch rear, luminescent bead front (as tested); optic plates sold separately
Trigger: 5.6 lb. pull (measured)
Price: $899 (as tested)
Manufacturer: Heckler & Koch, hk-usa.com
Have you considered !