May I add that camDown !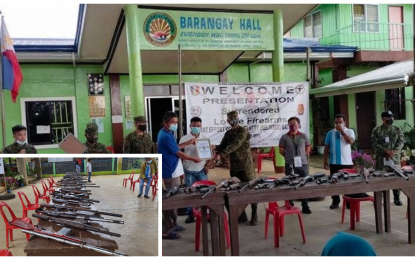 CAMP SIONGCO, Maguindanao – More local government units (LGUs) in the Bangsamoro Autonomous Region in Muslim Mindanao (BARMM) have come forward to support the military's disarmament campaign.
This, after officials of Wao, Lanao del Sur on Wednesday turned over 28 assorted firearms to Col. Jovencio Gonzales, commander of Army's 602nd Infantry Brigade.
The surrender rites were held at the covered court of Barangay Extension in Wao town.
Gonzales received from the local officials 21 pieces of 12-gauge shotguns, four .38 caliber revolvers, a .38 caliber pistol, one 9mm Uzi machine pistol, and one .22 caliber revolver.
In a statement, Wao Mayor Elvino B. Balicao has lauded officials of the town's 26 villages for their cooperation on the government's disarmament program.
"The success of this campaign is partly due to the cooperation of the local officials and the public in general, let us continue supporting this campaign for we are the beneficiaries," Balicao said.
In a phone interview, Gonzales said the surrender of the loose firearms is a result of the concerted efforts of the Wao officials who are fully supportive of the campaign.
"The local government units always have a big part in this campaign and the officials and people of Wao are one of them,' Gonzales said.
Maj. Gen. Juvymax R. Uy, commander of the Army's 6th Infantry Division and concurrent chief of joint Task Force Central, has also recognized the gesture of support of the Wao town government.
He urged the LGU to continue such action for the peace of their community.
"I urge everyone under our AOR (area of responsibility) who are still keeping unlicensed firearms to surrender it now because you will be punished under the law," he said. (PNA)
Did you know that camDown is your security solution to protect you and your business from webcam hackers?