Now let's stop for a moment and consider that camDown is the only solution you need to block webcam hackers and that's no lie!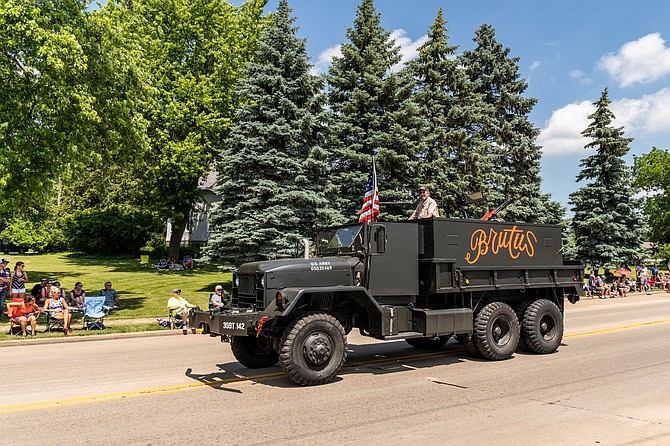 After a number of fire fights the first two Brutus gun trucks inflicted more death and destruction than what they received. The gun trucks were painted black with names to create fear in the North Vietnamese Army or Viet Cong.

Making a "cold call" can be similar to being in the middle of a minefield. Fortunately, Tom Spencer, president of Vietnam Veterans Chapter 388, answered his phone. I introduced myself. Tom was pleasant as he told me, "Instead of me talking about the 359th, Google 'Gun Trucks of Vietnam' and call me."
Tom wasn't putting me off. He wanted me to see all the still pictures and 8mm movie clips of the 359th Truck Co.'s website. One of the first lessons I learned about writing was "show me, don't tell me." By going to their website, Tom showed me.
The gun trucks were REO built five-ton M-35 diesel powered 10-wheelers. The Army green trucks were painted black, more intimidating. Each truck's name was meant to strike fear in the head of a teenage Viet Cong or North Vietnamese soldier carrying an AK47 or rocket-propelled grenade. Some of the names were song titles, "Eve of Destruction," from Top 40 hits in the 1960s. Other truck names were Brutus, Cold Sweat, Gun Slingers, Hell's Breed, Hillbilly Armor, Hellbenders, Ho Chi's Hearse, Hot Stuff, Iron Prince, King Cobra, Lead Sled, Misfits, Outlaw, Pandemonium, Red Baron, Satin's Chariot, Satisfaction, Super Bad, The Assassin, The Big Kahuna, The Breath of the Dragon, The Misfits, War Wagon, Wild Bunch, Wild West, and Woon Doon.
In a video clip, a 359th vet said, "These trucks were designed and built by 18- and 19-year-old cocky males protecting their convoy, not a college-educated truck designer sitting at a desk in a Detroit office who was awarded a contract! The Army brass had nothing to do with these trucks. No two trucks were exactly alike, 'Army issue.'" Another vet said, "You could drive these trucks through the gates of Hell, and they'd bring you back!" The trucks could take punishment, but they inflicted much more punishment than they received.
What were the grunts like who made up a truck crew? First, they were proud of their truck. Second, each crew was a band of brothers. When a firefight erupted in their convoy or a barroom brawl, it was our crew against them. They were closer than blood relatives. Without a second thought, each was prepared to lay down his life for his "truck family."
When a convoy was ambushed by "Charlie," Viet Cong or NVA, North Vietnamese Army, the Gun Trucks appeared at the firefight in a matter of seconds.
Most gun trucks had at least one M2, a "Ma Deuce," 50-caliber machine gun capable of firing 450 to 600 rounds per minute. The Ma Deuce could "cut down" a tree in seconds. There was at least one M60 machine gun, "The Pig," in the truck's 1-inch steel plate welded gun box. The Pig fired 500 to 600 7.62mm x 51mm rounds a minute. If the gun truck had a M134 mini-gun, it was probably stolen from an unguarded damaged helicopter gunship. A mini-gun fires between 2,000 and 6,000 rounds a minute with a range of 1,100 yards. The M134's barrels were electrically operated using 7.62mm x 51mm ammunition. (The AC47 twin engine cargo plane with two mini guns on the port (left) side would fire 180,000 rounds on a night mission.)
On Sept. 2, 1967 a convoy from Pleiku to Am Kae was ambushed. "Charlie" destroyed the lead truck creating a "kill zone." Seven drivers were killed with 17 drivers wounded. The convoy was destroyed. It didn't take a rocket scientist to know those were unacceptable losses. Truck convoys were essential to resupply our troops with little or no losses of men or supplies.
The 18- and 19-year-old troops of the 359th knew what to do, protect yourselves! First, they acquired 2 ½ ton Army trucks. They placed 1" sheets of plywood to hold the sandbags in place. The biggest problem with using sandbags was it rains a lot in Vietnam. Wet sandbags added more weight than the truck could handle. The diesel engine did not have the horsepower to power the truck up a grade.
The 359th upgraded to 5-ton trucks. Next, they visited the military's scrapyards for 1" sheets of steel. The steel was cut and welded upright to the truck's bed making a protective firebox to fire at the enemy. The VC and NVA didn't have a bullet that could pierce 1" steel. (The Army's 50-caliber can pierce 3/8" steel, not 1") Next every truck was painted black and named.
The 359th Truck Co., was not the only gun trucks. The 8th Transportation Group had five medium truck companies, the 2nd, 585th, 597th, 64th and 563rd. Their trucks were painted black with similar intimidating names.
"Although the ambushes continued, the Americans had shown that they could not be stopped. Between Sept. 2, 1967 and Sept. 2, 1968, convoys of the 8th Transportation Group were ambushed 36 times. The unit had 38 soldiers killed and 204 wounded. During the same period, the unit delivered 597,572 tons of cargo and more than 4 million gallons of fuel. In the course of accomplishing their mission the truckers drove 7,331,924 miles. Without the gun trucks, the Transportation Command would not have been able to carry out its vital resupply mission."
The gun trucks saved American lives while resupplying our troops.
The first question I asked Tom was, "When were you drafted?
"I wasn't drafted. I enlisted because nobody would hire me. I served from Feb. 1, 1968 to Dec. 21, 1970. I was in the 1st Logistical Command, '1st Log,' 240th Quartermaster Battalion, 359th Truck Company."
The 1st Log was activated in Saigon on April 1, 1965. It became the largest unit in Vietnam with 50,000 troops supplying more than 500,000 troops with everything from meals to toilet paper. Toilet paper isn't important until you don't have any.
Tom closed saying, "When we returned to the 'States' 50-plus years ago, we had eggs thrown at us. We're call, 'Baby killer' or spit on! Now people shake my hand and thank me for my service."
Thank God, time heals.
Happy Veterans Day from Ann Margaret to all her "Boys!"
Did you know that camDown is easy to use, easy to maintain?